If you want to Delete StockTwits Account, then you have come to the right article. You will be told How To Delete StockTwits Account quickly.
Guys, My name is Sonia, and today we will tell you how you can delete your StockTwits account. You want to delete your StockTwits Account, and you can quickly delete StockTwits Account by following some steps.
Let us discuss it in detail and tell you How To Delete StockTwits Accounts.
How To Delete StockTwits Accounts
You can delete your StockTwits account without any problem by following some points & steps.
Currently, there is only one way to delete your account from StockTwits App, which is mentioned below.
First, open StockTwits Account or App
Then on the top side, you have to click on three dots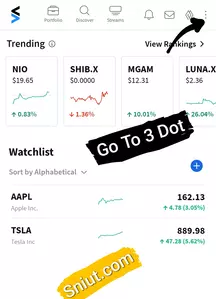 After that, click on the help option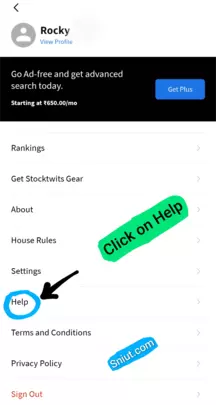 After clicking on the Help option, you will be directed to the Gmail app with the StockTwits official email to which you have to send the email.
If you don't want to go through all these steps, you can go to the email inbox and send mail from the email to which your account is linked.
Then you will have to mail the StockTwits team there from the email in which your account is created, and there you have to discuss deleting the account.
Delete StockTwits Account by Email
How do you tell the StockTwits team to delete your account so you can copy-paste the following conversation?
StockTwits official Email – [email protected]
Subject: Please Delete my StockTwits Account
Hello, Team StockTwits I have a StockTwits Account with the name (Your profile name XYZ), and my email id is (Your email id XYZ). Now I don't want to use this account, so I request you, please delete or permanently delete this StockTwits account. Apart from deleting my account, you can also delete my database and all information
Sincerely,
your profile name
your email
StockTwits Is Safe?
Many people want to delete the StockTwits account after using it, and most want to delete it because it is not working correctly and people are having some problems. Some people delete thinking that this StockTwits app is safe or unsafe.
To know whether the Stock Tweets platform is safe or unsafe, you need to know about it in detail. You can also get information about it from websites and videos.
What is StockTwits?
StockTwits is an online social media platform where industrialists, traders, and investors can share their thoughts with people. It is used like Twitter, in which people give information to people through their posts and tell their opinion, so it is an excellent platform to discuss a market properly.
The StockTwits platform is present in many large countries and is used by large investors and traders. You also get market analysis, statements, trading stocks, trading ideas, and market news.
If you are using the StockTwits platform, you should not wholly depend on it; you should get information about the market from different experts.
FAQ
How To Delete StockTwits Account
To delete the StockTwits account, go to the app > then click on 3dot > then click on the help option > and their email will open. Ask to delete the account.
StockTwits is Safe?
Yes, This is a safe platform. The StockTwits platform is present in many large countries and is used by large investors and traders.
Conclusion
I hope you have got the information related to the Delete StockTwits Account. If you still have questions or suggestions, please let us know in the comment box below.
It will help if you share this article with others and forward it on your WhatsApp and Facebook. You can revisit the website for more detailed information.